In this chapter Izzy is having a hard time getting over Jack.
Izzy stares out the window remembering the last time she saw Jack.

Looking at the beautiful bracelet he gave her last Christmas she just can't understand what happened and why he left without any explanation.
Meanwhile...somewhere not too far away, a young man is deep in thought wondering what he can do to salvage a friendship.

The next morning Izzy wakes up with Jack still on her mind.
Sam and Rebecca came in to see her.
Sam ~ Good morning Izzy! Are you going to work? Izzy ~ I am...
Sam (stretching out on Izzy's bed) ~ Can we stay here while you get ready? Izzy ~ Not today Sam, I'm in a hurry.
So Izzy went to work needing to keep her mind busy and get something productive done.
She came home, threw herself on her bed and the flood of tears come as she had held it in all day.
Izzy ~ *sniffle* sob* ..
Rebbecca heard the sobs and runs to tell Sam.
Rebbecca ~ Sam! Izzy is crying!....again! Sam ~ Oh no!..Ok...lets go see if we can cheer her up...Hi Izzy, can we come in? Izzy~ *sigh*(and not really feeling like company but agrees) ...ok...come on in. So they just hung out in silence until..
Sam ~ Why don't we invite Breeze over? She is so nice and we haven't seen her in a long time.
Izzy gets out her favorite tea set
Izzy ~ Thank you Sam for helping unwrap the china. I'm so excited Breeze is coming over for a visit.. Sam ~ You're welcome. You look pretty in your new dress.
Izzy ~ Thank you Breeze for joining us for tea. We are so happy to see you. I wish Naomi could have joined us too. How are Naomi and Grimm? Breeze ~ Oh, they're fine. Their honeymoon was a bit interrupted, but they'll be able to take off again once they get Miranda settled. Everything's a bit new to her, and Naomi doesn't want to leave her there alone. I don't think Grimm's thrilled about it. but he's always patient with Naomi. *smiles*
Izzy ~ Breeze, I wanted to talk to you about something, it's ...Jack.
Breeze ~ I kinda thought there was something you wanted to talk about...So what's going on?
Izzy ~ He left without saying anything. I don't understand at all. I really care about him and I thought he had feelings f me too but he is so mysterious, and Sam said she saw him flirting with a girl that use to come over here. She was someone that I met through my work and I thought she wanted to be my friend..and of course she doesn't come here anymore. Now, I don't even know where Jack lives!
Breeze ~ Oh dear...you must be worried! And he didn't even tell you he was moving out? That's so odd - especially as you've been so close. I hope he lets you know where he's gone. Izzy ~ Thank you Breeze for listening and for being my friend. Breeze ~ You've always been there for me...So any time you need me, you just let me know.
Sam ~ *whispers* Geesh! She can't talk about anything else! We gotta do something to help her!
Next day Izzy goes to her office and the girls plan to meet her there.
Izzy ~ where do you think he is living? Rebbecca ~ Izzy..why don't you take a break for lunch?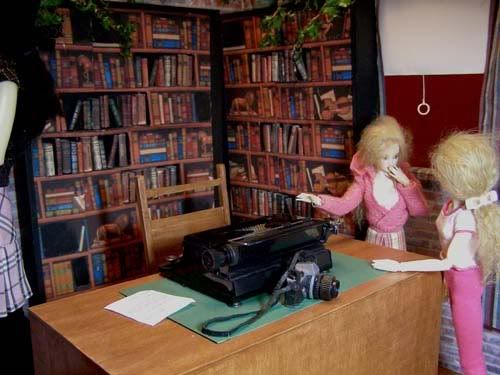 Sam ~ *whispers* thanks Becky..I need to get her maps and I don't want her know what I'm doing.

Sam ~ I think I know where Jack is living. I just want to make sure. Rebecca ~ Oh Sam..if we could only get them to talk.

Sam went to the building where she thought she was Jack..and there he was!
She wanted to get a picture to prove it to Izzy that she had found him.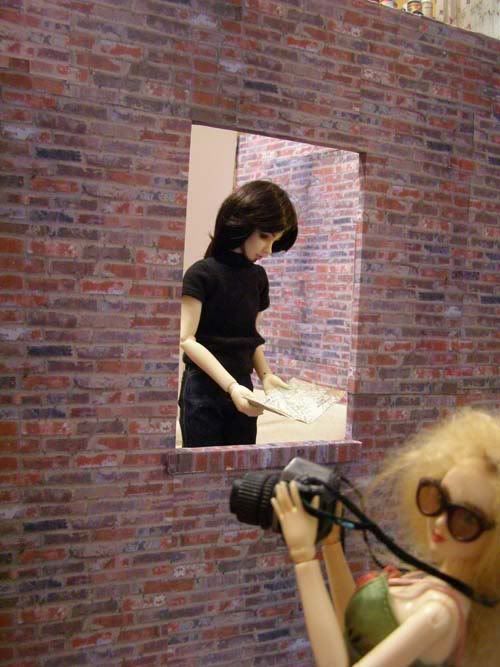 Sam puts the picture of Jack on Izzy's desk.
Izzy sits in silence just staring at the photo of Jack
Sam ~ Look Izzy, look at the map! This is where he lives! We found him!! You have to go talk to him!
Izzy still just sitting here looking at Jack *thinking* ..he looks so handsome...*heart pounding*
Sam ~ Look Izzy, here is the street!
Now Izzy has to make a decision of what she will do with the information.
She decides to try to talk to him.
Izzy standing outside of Jacks apartment. She just rang the bell and is waiting for him to answer. She feels her heart pounding and her stomach in knots.... thinking what will he do when he sees her?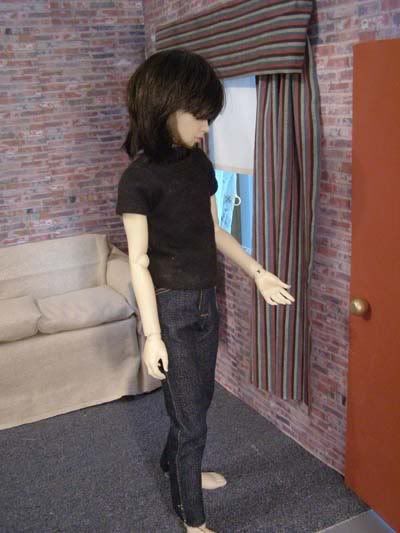 Jack had seen her from the window, and his heart is pounding too, he knows she will ask questions and how much should he tell her?

Jack ~ Hi Izzy, come on in.
Izzy takes off her coat and sits down.
Izzy ~ please Jack, come sit down. (her stomach is aching, she is so nervous)
His heart pounding...*thinking* She is so beautiful.....
Jack with his head down, sits in silence.
Izzy~ It's so good to see you. I've missed you.
He reaches for her hand. *clears his throat* I've missed you too. I have to clear some things up. I had to keep things secret back then because I was working with the government on a case that involved the woman that you thought was your friend. I didn't have any kind of personal relationship with her.
Izzy started to cry and Jack reaches over and tenderly wipes away the tear that was trickling down her beautiful face.
Jack ~ Oh Izzy...I'm so sorry I hurt you. I didn't mean to. Please forgive me. I promise to be more open with you and tell you as much as I can. Izzy letting him hold her *sobs*
***********************************************************
The End? (not!)
As always the story doesn't end here. There will be new adventures for Izzy in the near future.